About
us
Something Sweet opened in the Historic Downtown Paragould in December 2011
as Paragould's first sweet shop with a focus on cupcakes and custom decorated occasion cakes.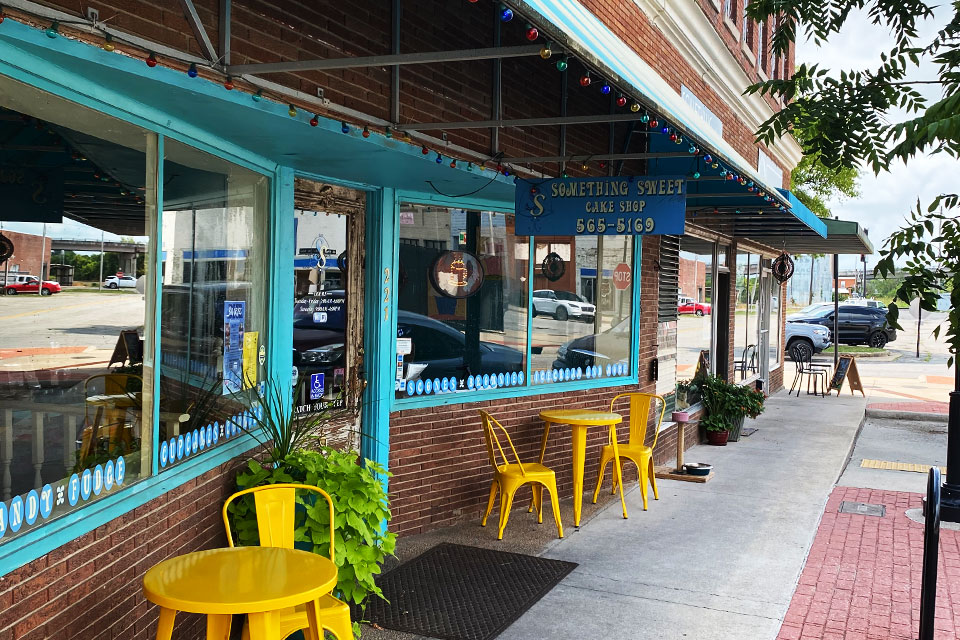 Each cake is decorated by Tracy with the customer in mind. She started decorating cakes for her own children in 1992. Then one day while in a military exchange overseas, she was looking at cake decorating supplies and someone asked her if she was a cake decorator. She looked at them and thought for a moment, then replied "Yes, yes I am" and so her cake decorating career took off. Tracy started making cakes for the other children on base and for various military functions. Being overseas, there really wasn't a place to take classes so everything she did was by trial and error. She started out making simple sheet cakes and character pan cakes; now she makes elaborate tiered wedding cakes. After her husband retired from the military, Tracy and her family came back home to Paragould, and saw her dream of having her own shop come to life.
Tracy believes that a cake must look as good as it tastes and taste as good as it looks. All of our baking and decorating is done on site within 24 hours of pick-up/delivery time to ensure freshness and leave a lasting impression for you and your guests.
Something Sweet also offers premium coffee drinks, lattes and cappuccinos, made to your tastes with over 40 different Torani flavors. At Something Sweet you will find an inviting shop atmosphere that's perfect for sitting, relaxing or enjoying a visit with a friend. When stopping by, you can also find a variety of other sweet treats such as brownies, scones, cookies and more. Check out their retail section for the perfect gift or pick up a gift certificate for that special person.
At Something Sweet, you're not just treated as a customer, but as a friend. We want your experience to be a memorable one. Our friendly staff is here to help you with ordering, making that perfect coffee or carrying your purchases out to your vehicle. Cupcakes are happiness and we want our customers happy too.
---
Something Pawsitive
A little bit about our newest adventure next door, We offer a one of a kind setting for cat lovers to relax and enjoy some purr therapy in the One and Only Downtown Paragould. Make your coffee break extra cuddly by spending time with some adorable and adoptable feline friends from Ozzie's Legacy!
Please come to Something Sweet first upon arrival. We know that the cats are very distracting, and you want to go there first, but for the lounge to stay open, we need you to pay your admission fee first. Once you pay your fee, you've got a lot of options. Click here to learn more!